The current conditions of Pakistan carry it to extreme devastation. The inflation rate is increasing excessively and making it hard to live from hand to mouth.
People are getting suicidal thoughts just because of the poor management of the country. Among these crises, an issue that was not resolved arisen up once again!
It was an issue of "Aqedah Khatme Nabuwat" initially. When a Christian lady goes wrong in honour of our beloved prophet Hazrat Muhammad (S.A.W.), a man whose name was Allamah Khadim Hussain Rizvi raised his voice to bring that woman to death.
Many people joined this voice and asked Allamah Sahab to lead them, and they supported them. The government, however, sent that lady to foreign to protect him, or it was a business deal, but no one knows.
This provoked people anger as Muslims are religious extremists. They couldn't listen to a single word against the honour of their holy prophet, but even then, the government took that step which added to the strength of making a "Tehreek".
What is TLP?
Now here we come to the answer that what is TLP. So basically, TLP is the shortened form of "Tehreek-e-Labaik-Pakistan".
Initially, it was just a Moment that was working throughout the country to save the honour of Holly prophet. But every mistaken step of government was leading them to become more robust than earlier.
After the escape of that Christian lady, this Tehreek got his strength, and now people started believing Allamah Sahab for their arguments.
Allamah Khadim Hussain Rizvi was a man of words. He was committed to what he said and showed a great passion and love to sacrifice his life for Islam.
He throughout his life guided people to be what their ancestors were. It raised a sense of Jihad in people, and now people can easily gather in any of Rally of TLP.
Issue of France and TLP
Everything was going smoothly, and there were no protests in-country or in moments that could lead to severe economic damage.
Suddenly a man in France published some cartoonist graphs to dishonour our beloved Holy Prophet Hazrat Muhammad (S.A.W.). It made the whole Muslim world furious, and an air of protests started throughout the world.
People were in a higher temper demanding to close the France embassy in Pakistan and remove the France ambassador here. To make this voice raised to a country level, Allamah Sahab once again started protesting against this issue.
This time their argument was fatal to approve; otherwise, they would be making wheel jamming protest in the country. People started joining them in bulk. Everyone was favouring them.
Now it was an alarming situation for the current government to take some concrete steps against France. Therefore, they made a contract between TLP and the government that they shall expel France ambassador and summon a national assembly meeting for this issue. But somehow, the promise was not fruitful as the government didn't keep his arguments.
What makes this protest fatal for humanity?
When the government didn't accept their own contract, a wave of protest again started throughout the country. They arrested Allamah Sahab many times to stop them from protesting. But people kept their morale high and continued to their claims.
Between these arrests and cases, Allamah Khadim Hussain Rizvi Fell ill and died. It made people feel sorrow and rooted their love in people's hearts.
After Allamah Sahab, their elder son Saad Hussain Rizvi took this duty and run country-wise protests. The government made many contracts but didn't act upon them, and consequently, people carried on to protest for their issues to be resolved.
This time they arrested Saad Rizvi and called their Tehreek "Kaaladam". So it means that they call them terrorists even they didn't do wrong to anyone at that time.
The things were moving toward big chaos. A silent wave then suddenly arose as they were not leaving Saad Hussain Rizvi. Therefore, a protest started from their home town and headed toward Islamabad.
Many people joined it, and it got the shape of an enormous human tornado. The government started worrying about their downfall. Thus, except for releasing Saad Rizvi, they started shelling on those protests.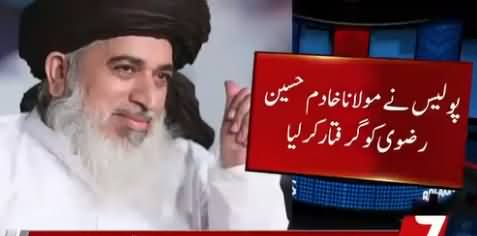 Many innocent citizens got wounds. Again, this action from the government provokes a layer of anger, and this time protestors also bring some stones and sticks with them.
A more significant number of people and police collapsed, which made it big chaos by the death of approximately 150 police and protestors both.
After the continued failure of their fluffy ideas, the government accepted their arguments, and the protest went calm.
Is TLP a Terrorist organization or political party?
TLP was not a terrorist organization and nor a political party. It was just a moment working throughout the country to make the government run smoothly by working on safety Muslim's prophet honour.
Wrong decisions of government take them to attack on police and result in a big chaos. But, of course, it was not their intention. But as our government was a team of failures, they put every blame on the protestors.