October 10, Mental Health Day is being celebrated all over the world. Traditionally, this day will also be celebrated in Pakistan and when this column is in front of you, you may see a picture of an event or a statement of a minister. This day has been observed globally since 1992 with the main objective of making the public aware of the importance and requirements of mental health. It was started by a global organization "World Federation for Mental Health" but now the World Health Organization (WHO) is also a partner in celebrating this day. One hundred and fifty countries of the world, which are in agreement with the Health Organization, celebrate this day and reflect on the importance of mental health and the issues facing it in their way. Every year a theme is set for this International Day. This year's theme is "Stress - A Global Crisis". Although Mental Stress has always been a major problem, the COVID-19 epidemic has led to a dramatic increase in mental illness over the past year and a half. Perhaps this is why the relevant international organizations have made "stress" their special topic.
RATE OF MENTALLY ILL PEOPLE IN PAKISTAN:
According to the Pakistan Association of Mental Health, about 35% of Pakistan's citizens suffer from some form of mental illness, major or minor. This is a very large number which is more than 70 million in terms of the total population of Pakistan. The highest number of mentally ill people is in Sindh province where more than 17% of Pakistanis have some form of mental illness. The figure is 9 percent in Punjab, 4 percent in Balochistan, and 5 percent in Khyber Pakhtunkhwa. Surprisingly, Lahore has the highest number of sufferers and sufferers. This is followed by Quetta and Karachi.
CAUSES OF MENTAL ILLNESS IN PAKISTAN:
All the causes of mental and nervous stress are present in Pakistan with a full intensity which disturbs the peace of the people and makes them mentally ill to some extent. According to experts, the main causes of this disease are poverty, economic problems, inflation, and unemployment. All four causes are growing rapidly in Pakistan, as well as mental illness. According to the latest statistics, about 40% of our population is currently living below the poverty line by world standards. That number is more than 80 million. Imagine what kind of problems a family living in poverty will face. The first problem is the bread of two times. If the problem of bread is solved, then there is a need for a place to cover the head, clothes to wear, and medical treatment. When these problems are overcome, parents want their children to be educated. Then there are the daily expenses. Electricity bills, gas bills, weddings, and many other miscellaneous expenses.
There are many levels of these families who have fallen below the poverty line. Some are barely able to cover their whites and some spend their time on wage labor. If you get wages, you will get bread, otherwise not. Can you imagine what would happen to such families? From the statistics, it seems that a person living below the poverty line has become mentally ill. Inflation has risen to record levels in recent times. Commodity prices like flour, ghee, sugar, rice, pulses are on the rise. Unemployment is also rising. So this situation is greatly increasing the mental and nervous stress. In addition to the state of the law and justice system, a sense of insecurity in society, rising crime, domestic violence, political instability, general uncertainty, the home environment, the workplace environment, the nature of work, accidents, Or a physical illness can be a source of stress.
SHARP RISE IN MENTAL ILLNESS:
The World Health Organization (WHO) estimates that there will be a sharp rise in mental illness after COVID-19 and that the death toll will be higher than the number of deaths from cancer. The agency also says that Pakistan is one of the countries where the number of psychiatric patients is increasing. It has been reported that 13,000 people commit suicide in Pakistan every year. About 95% of those who commit suicide are said to be mentally ill. We read in the newspapers every day that a woman committed suicide by jumping into a canal with her innocent children. Or a man who killed his wife and children because he was poor. All of them are mentally ill.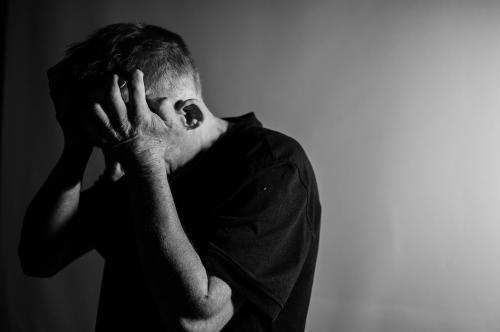 Unfortunately, governments have not developed a system for mental or psychiatric illnesses in general. There was no national policy on psychiatric disorders. Nor has there been any public awareness campaign about epidemics such as dengue and coronavirus. There are also reports that a child, or an elderly person, or a woman was chained in such a house. The government acts in such a way that the person who does so is also chained but this does not solve the problem. We also have a severe shortage of psychologists. According to statistics, there is only one doctor available for 4 million mentally ill children. The media is also not playing a role in the awareness campaign. Drug prices are skyrocketing. There are no psychiatric clinics. Occasional British-era insane asylums are the treatment of these unfortunate people.
It has been observed that people suffering from mental and psychiatric disorders, especially children and women, are referred to as amulets or amulet sellers. 
APPEAL FROM GOVERNMENT!!
Healing from scabies is rare, but the disease and treatment do enter the realm. One of the problems we have is that mental illness is considered a stain of remorse and is hidden. In these circumstances, the government must pay special attention to this important national issue. Increase the facilities of mental health centers and inform the people through media about the causes, treatment, ent and safety measures of all mental illnesses including mental stress.