Knowledge gives us different ways to live a life. We got to know about those things which remained blurred to our eyes. There are many things that are just considered by us but not the reality.
This is what we follow the race of truth and reality in knowledge. And it all comes when you are a bibliophile. Books are the only source that unlocks the stream of knowledge and exploration.
We can see that people who are fond of reading books can make more debate on logical topics than a common student. This is why experts called a good book is a good friend in bad times.
So, fall the bibliophiles, today I struggled and try to make some short notes on best books. These are also undergone by my reading. Though I'm not a big reader still I love some books due to their plots and the way writers communicate.
let's start with it;
         1) All About Love by Bell Hooks
A book shouldn't be chosen by its cover, this is what I applied before buying this book. Actually, I fall in love with someone and then somehow failed. But when I got to know about this book, it seems interesting because it will teach the true way of love.
Basically, Bell Hooks is a feminist and has another view of love in society. His books transform the new way of love and how we shall look at it in the sense of nouns. So, you shall read this book before you die and surely you would get a new concept of love.
2)The God of small things
This was the book that lead to winning the Booker prize for its author. This book transforms the real fictional work with morality. This book explains the orthodox societies with a unique approach of explaining tales in a horror way. You can estimate the interest level by reading its title.
3)Frankenstein
This book was the first one that rushed people's minds with predictions about zombies in the future. Have you ever watched the movie "I Frankenstein"? If not then you should read this book and then watch the movie.
Basically, that movie was pictured in the book of Marry Shelly. She worked amazingly by portraying the story of a mad doctor. That loser doctor, later on, worked on dead bodies and create monsters that cause treble for humans.
4)Never let me Go
When it comes to sci-fi movies, we all love to watch due to the plot and future predictions. But what if a Sci-Fi book can entertain you more than a movie, yes it is "Never Let Me Go".
This book is written by a Nobel prize winner. In this book, the writer talks about the loser, love, failures, acceptance, and many more. You can call this book a true mirror of life. So you would get a lot to read and learn from this book.
5)Disgrace
Last but not least is Disgrace. This book as by title would be about something that relates to human and their rights. Our world is not as straightforward as we think. There are animals in the face of humans.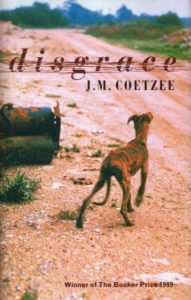 This is what this book explains about prejudices of class, sex, humanism, and many more. This book goes sensitive for emotions that you won't stop until it is finished. So you should try this as well once in your life.